The Mini Rough Guide to Rome
Shipping to the UK and USA only.
Cost calculated at checkout
Description
This pocket-sized guide is a convenient, quick-reference companion to discovering what to do, what to see and how to get around Rome. It covers top attractions like the colosseum, the Pantheon and the Trevi Fountain as well as hidden gems, including Campo de' Fiori and the Carlo Bilotti Modern Art Collection. This will save you time, and enhance your exploration of this fascinating city. This title has been fully updated post-COVID-19.

This Mini Rough Guide to Rome covers: Piazza Venezia and Capitoline Hill, Ancient Rome, Centro Storico, Spanish Steps and Tridente, the Trevi Fountain and Quirinale, Villa Borghese, the Vatican, Trastevere, the Aventine and Testaccio, Monti and Esquilino and further afield.

In this travel guide you will find:

RECOMMENDATIONS FOR EVERY TYPE OF TRAVELLER
Experiences selected for every kind of trip to Rome, from cultural explorations in Testaccio to family activities in child-friendly places, like Villa Borghese or or chilled-out breaks in popular tourist areas, like the Spanish Steps.

TOP TEN ATTRACTIONS
Covers the destination's top ten attractions not to miss, including Villa Borghese Park, Villa D'Este and the Sistine Chapel, and a Perfect Day itinerary suggestions.

COMPACT FORMAT
Compact, concise, and packed with essential information, with a sharp design and colour-coded sections, this is the perfect on-the-move companion when you're exploring Rome.

HISTORICAL AND CULTURAL INSIGHTS
Includes an insightful overview of landscape, history and culture.

WHAT TO DO
Detailed description of entertainment, shopping, nightlife, festivals and events, and children's activities.

PRACTICAL MAPS
Handy colour maps on the inside cover flaps will help you find your way around Rome.

PRACTICAL TRAVEL INFORMATION
Practical information on eating out, including a handy glossary and detailed restaurant listings, as well as a comprehensive A-Z of travel tips on everything from getting around to health and tourist information.

STRIKING PICTURES
Inspirational colour photography throughout.

FREE EBOOK
Free eBook download with every purchase of a printed book to access all the content from your phone or tablet for on-the-road exploration.
Book Details
ISBN: 9781785731525
Series: Mini Rough Guides
Publication Date: 10/1/2022
Pages: 144
Dimensions: 105x144
Series
This title is a part of Mini Rough Guides
Pocket-sized travel guides packed with practical and cultural information for everyone from short city-breakers to longer holiday-makers, thanks to the blend of area-by-area descriptions, at-a-glance historical and cultural information, and comprehensive listings and travel tips, backed up by easily-accessible mapping
Practical travel information including getting there, getting around by public transport, accommodation, detailed food and drink highlights, and entertainment and activities in the region

Destination highlights not to miss at the beginning of each guide

Colour-coded chapters focus on where to go and what to do in a highly-readable descriptive style, featuring historical information and tips on what to look out for

Recommendations for accommodation, restaurants and leisure activities for all budgets

Colour-coded detailed maps on the book flaps with key sights marked up by number

Beautiful, inspirational full-colour photography throughout brings the destination to life

Printed on paper from responsible sources verified to meet FSC's strict environmental and social standards

Free eBook with each purchased printed guide
Format: 105 x 144mm
Price: £6.99 | $9.99
Extent: 144 pages
FAQs
Which payment options can I use in the Insight Guides Shop?

You can pay with credit card: Visa, MasterCard, American Express, and via PayPal.

How long will it take to receive my order from the Insight Guides Shop?

If you've ordered an ebook, it will be delivered to you via email immediately after your purchase.

For printed book orders, we offer DPD next day delivery in the United Kingdom and Northern Ireland and standard (2-8 days), priority (1-3 days) delivery options in the USA.

Please be aware that the delivery times are based on when your item was dispatched and not when you ordered your item. Unless stated otherwise, we intend to send items on the next available business day.

Currently we do not provide a tracking number for your order.

How can I contact Insight Guides about a shop order?

You can contact our shop team at "mail@insightguides.com".

To help our team reply faster, please copy and use one of the following email subject lines:

"Book shop: orders, shipping, returns"
"Website: general usage and technical problems"
"Guide books: corrections and other questions"
"Tailor-made travel"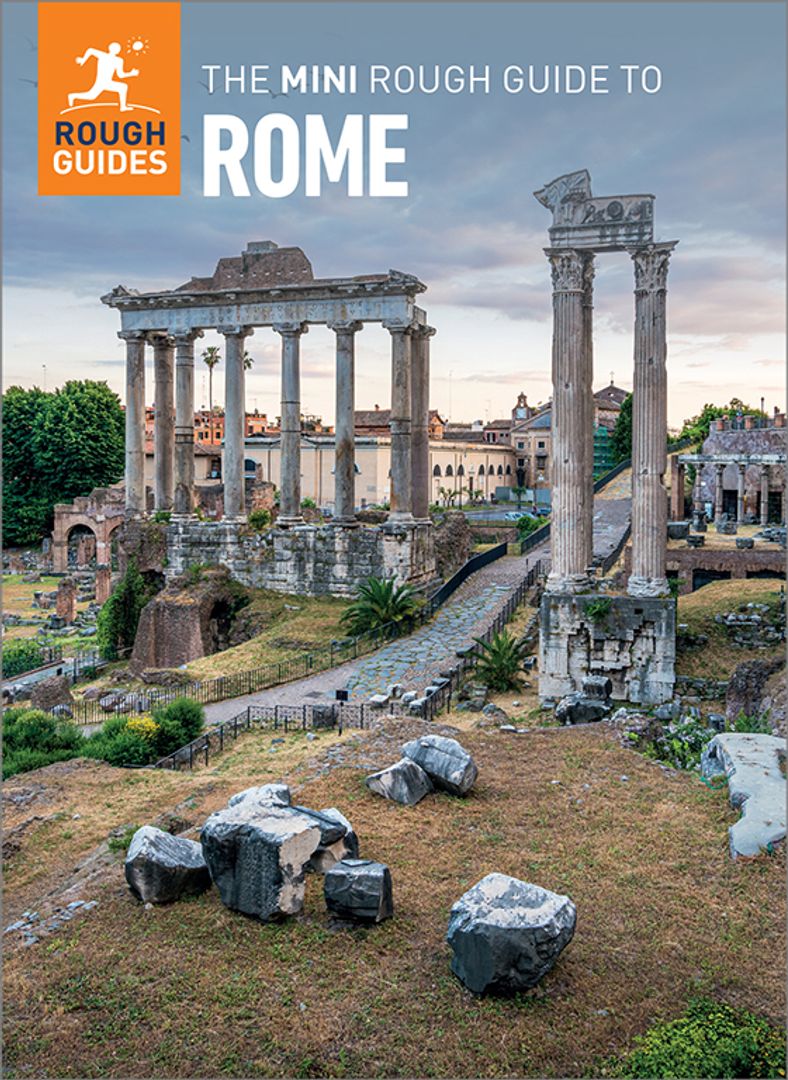 Shipping to the UK and USA only.
Cost calculated at checkout
Description
Series
FAQs
This pocket-sized guide is a convenient, quick-reference companion to discovering what to do, what to see and how to get around Rome. It covers top attractions like the colosseum, the Pantheon and the Trevi Fountain as well as hidden gems, including Campo de' Fiori and the Carlo Bilotti Modern Art Collection. This will save you time, and enhance your exploration of this fascinating city. This title has been fully updated post-COVID-19.

This Mini Rough Guide to Rome covers: Piazza Venezia and Capitoline Hill, Ancient Rome, Centro Storico, Spanish Steps and Tridente, the Trevi Fountain and Quirinale, Villa Borghese, the Vatican, Trastevere, the Aventine and Testaccio, Monti and Esquilino and further afield.

In this travel guide you will find:

RECOMMENDATIONS FOR EVERY TYPE OF TRAVELLER
Experiences selected for every kind of trip to Rome, from cultural explorations in Testaccio to family activities in child-friendly places, like Villa Borghese or or chilled-out breaks in popular tourist areas, like the Spanish Steps.

TOP TEN ATTRACTIONS
Covers the destination's top ten attractions not to miss, including Villa Borghese Park, Villa D'Este and the Sistine Chapel, and a Perfect Day itinerary suggestions.

COMPACT FORMAT
Compact, concise, and packed with essential information, with a sharp design and colour-coded sections, this is the perfect on-the-move companion when you're exploring Rome.

HISTORICAL AND CULTURAL INSIGHTS
Includes an insightful overview of landscape, history and culture.

WHAT TO DO
Detailed description of entertainment, shopping, nightlife, festivals and events, and children's activities.

PRACTICAL MAPS
Handy colour maps on the inside cover flaps will help you find your way around Rome.

PRACTICAL TRAVEL INFORMATION
Practical information on eating out, including a handy glossary and detailed restaurant listings, as well as a comprehensive A-Z of travel tips on everything from getting around to health and tourist information.

STRIKING PICTURES
Inspirational colour photography throughout.

FREE EBOOK
Free eBook download with every purchase of a printed book to access all the content from your phone or tablet for on-the-road exploration.
BOOK DETAILS
ISBN: 9781785731525
Series: Mini Rough Guides
Publication Date: 10/1/2022
Pages: 144
Dimensions: 105x144