Insight Guides Costa Rica
Shipping to the UK and USA only.
Cost calculated at checkout
Description
This Insight Guide is a lavishly illustrated inspirational travel guide to Costa Rica and a beautiful souvenir of your trip. Perfect for travellers looking for a deeper dive into the destination's history and culture, it's ideal to inspire and help you plan your travels. With its great selection of places to see and colourful magazine-style layout, this Costa Rica guidebook is just the tool you need to accompany you before or during your trip. Whether it's deciding when to go, choosing what to see or creating a travel plan to cover key places like Monteverde Cloud Forest, Manuel Antonio National Park, Playa Montezuma, it will answer all the questions you might have along the way. It will also help guide you when you'll be exploring Tortuguero National Park or discovering the Pacific Crest Trail on the ground. Our Costa Rica travel guide was fully-updated post-COVID-19.

The Insight Guide COSTA RICA covers: San José, The Central Valley, The Central Pacific, The Northwest Mainland, The Northwest: Nicoya Peninsula.

In this guide book to Costa Rica you will find:

IN-DEPTH CULTURAL AND HISTORICAL FEATURES
Created to provide a deeper dive into the culture and the history of Costa Rica to get a greater understanding of its modern-day life, people and politics.

BEST OF
The top attractions and Editor's Choice featured in this Costa Rica guide book highlight the most special places to visit.

TIPS AND FACTS
Up-to-date historical timeline and in-depth cultural background to Costa Rica as well as an introduction to Costa Rica's food and drink, and fun destination-specific features.

PRACTICAL TRAVEL INFORMATION
A-Z of useful advice on everything, from when to go to Costa Rica, how to get there and how to get around, to Costa Rica's climate, advice on tipping, etiquette and more.

COLOUR-CODED CHAPTERS
Every part of the destination, from Punta Uva to Manzanillo has its own colour assigned for easy navigation of this Costa Rica travel guide.

CURATED PLACES, HIGH-QUALITY MAPS
Geographically organised text, cross-referenced against full-colour, high-quality travel maps for quick orientation in San José, Osa Peninsula and many other locations in Costa Rica.

STRIKING PICTURES
This guide book to Costa Rica features inspirational colour photography, including the stunning Ujarrás and the spectacular Volcán Barva.

FREE EBOOK
Free eBook download with every purchase of this travel guide to Costa Rica to access all the content from your phone or tablet, for on-the-road exploration.
Book Details
ISBN: 9781839053351
Series: Insight Guides Main Series
Publication Date: 1/15/2023
Pages: 288
Dimensions: 153 x 229
Series
This title is a part of Insight Guides Main Series
Inspirational, lavishly illustrated travel guides to countries and regions that provide all you need for every step of your journey. With in-depth features on culture and history and stunning colour photography throughout, they are perfect for inspiration as well as a souvenir of your trip, while detailed place chapters and travel tips make it ideal for trip planning.
In-depth coverage of the destination's history, landscapes, wildlife, people and culture, from the arts to sports.

The destination's top ten attractions and editor's choice of what to see and do at the beginning of each guide

Practical travel information includes when to go, getting there, getting around, entry requirements, food and drink highlights, and everything you need to know about local culture

Colour-coded chapters travel around each city or region in a highly-readable descriptive style, featuring fascinating historical information as well as detailed information on points of interest, backed up by handy tips on what to look out for when you're there

Colour-coded detailed maps with key sights marked up by number and corresponding to the places chapters

Beautiful, inspirational full-colour photography throughout brings the destination to life and makes the book a memorable souvenir of a trip

Printed on paper from responsible sources verified to meet FSC's strict environmental and social standards

Free eBook with each purchased printed guide
Format: 152 x 228mm
Price: £14.99-£18.99 | $22.99-$26.99
Extent: 248–464 pages
FAQs
Which payment options can I use in the Insight Guides Shop?

You can pay with credit card: Visa, MasterCard, American Express, and via PayPal.

How long will it take to receive my order from the Insight Guides Shop?

If you've ordered an ebook, it will be delivered to you via email immediately after your purchase.

For printed book orders, we offer DPD next day delivery in the United Kingdom and Northern Ireland and standard (2-8 days), priority (1-3 days) delivery options in the USA.

Please be aware that the delivery times are based on when your item was dispatched and not when you ordered your item. Unless stated otherwise, we intend to send items on the next available business day.

Currently we do not provide a tracking number for your order.

How can I contact Insight Guides about a shop order?

You can contact our shop team at "mail@insightguides.com".

To help our team reply faster, please copy and use one of the following email subject lines:

"Book shop: orders, shipping, returns"
"Website: general usage and technical problems"
"Guide books: corrections and other questions"
"Tailor-made travel"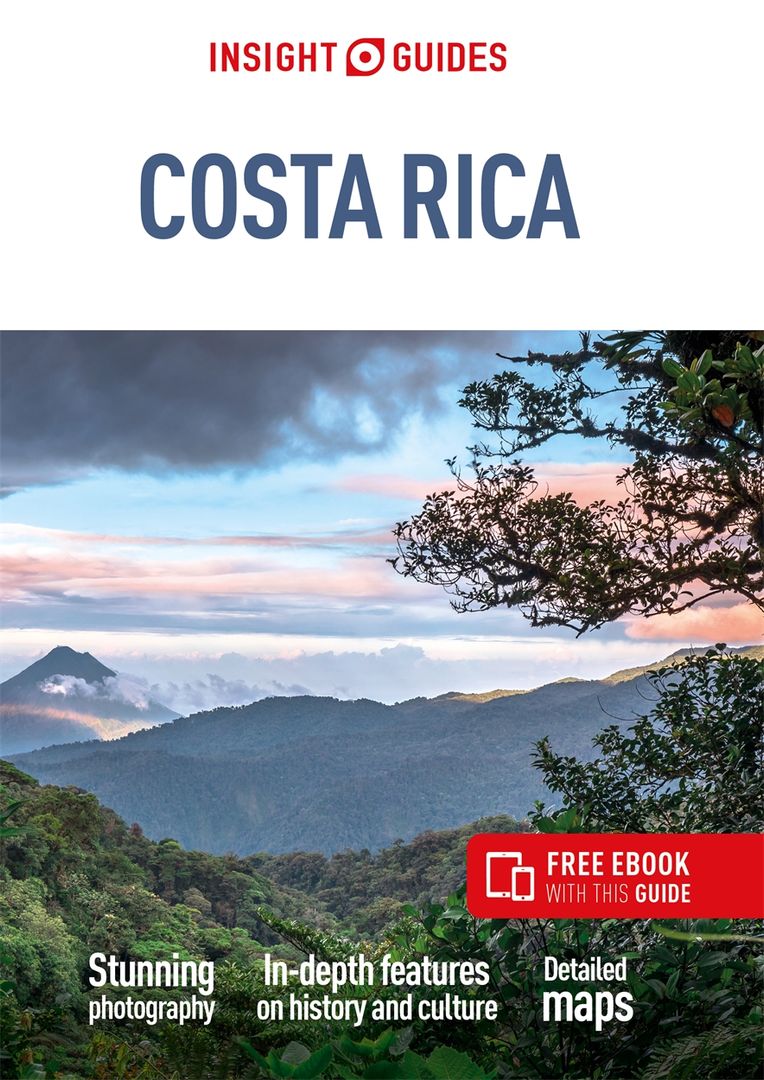 Shipping to the UK and USA only.
Cost calculated at checkout
Description
Series
FAQs
This Insight Guide is a lavishly illustrated inspirational travel guide to Costa Rica and a beautiful souvenir of your trip. Perfect for travellers looking for a deeper dive into the destination's history and culture, it's ideal to inspire and help you plan your travels. With its great selection of places to see and colourful magazine-style layout, this Costa Rica guidebook is just the tool you need to accompany you before or during your trip. Whether it's deciding when to go, choosing what to see or creating a travel plan to cover key places like Monteverde Cloud Forest, Manuel Antonio National Park, Playa Montezuma, it will answer all the questions you might have along the way. It will also help guide you when you'll be exploring Tortuguero National Park or discovering the Pacific Crest Trail on the ground. Our Costa Rica travel guide was fully-updated post-COVID-19.

The Insight Guide COSTA RICA covers: San José, The Central Valley, The Central Pacific, The Northwest Mainland, The Northwest: Nicoya Peninsula.

In this guide book to Costa Rica you will find:

IN-DEPTH CULTURAL AND HISTORICAL FEATURES
Created to provide a deeper dive into the culture and the history of Costa Rica to get a greater understanding of its modern-day life, people and politics.

BEST OF
The top attractions and Editor's Choice featured in this Costa Rica guide book highlight the most special places to visit.

TIPS AND FACTS
Up-to-date historical timeline and in-depth cultural background to Costa Rica as well as an introduction to Costa Rica's food and drink, and fun destination-specific features.

PRACTICAL TRAVEL INFORMATION
A-Z of useful advice on everything, from when to go to Costa Rica, how to get there and how to get around, to Costa Rica's climate, advice on tipping, etiquette and more.

COLOUR-CODED CHAPTERS
Every part of the destination, from Punta Uva to Manzanillo has its own colour assigned for easy navigation of this Costa Rica travel guide.

CURATED PLACES, HIGH-QUALITY MAPS
Geographically organised text, cross-referenced against full-colour, high-quality travel maps for quick orientation in San José, Osa Peninsula and many other locations in Costa Rica.

STRIKING PICTURES
This guide book to Costa Rica features inspirational colour photography, including the stunning Ujarrás and the spectacular Volcán Barva.

FREE EBOOK
Free eBook download with every purchase of this travel guide to Costa Rica to access all the content from your phone or tablet, for on-the-road exploration.
BOOK DETAILS
ISBN: 9781839053351
Series: Insight Guides Main Series
Publication Date: 1/15/2023
Pages: 288
Dimensions: 153 x 229