Insight Guides Phrasebook Japanese
Shipping to the UK and USA only.
Trusted Travel Guides
for Over 50 Years
Expertly Curated
Local Insights
Digital Convenience
for On-The-Go Exploration
Buying Directly
from Publisher
Secure Payment
Processing
Description
Insight Guides Phrasebook Japanese: all the words and phrases you need to feel at home, when away. Includes free app.

Compact, clear, and packed with key words and phrases, this pocket-sized Japanese phrasebook and dictionary (with free app) is a trusty travel companion. It's all you need to make yourself understood - and to understand others - when you're out and about in Japan.

· Smartly organised by topic (Exploring, Activities, Health and Safety, Food and Drink, Going Out) in colour-coded sections
· Includes insider local information, and native speaker language tips
· Informative introduction provides clear pronunciation guidelines, and grammar basics to help you get to grips with the language
· Includes an innovative extra that's unique in the market - all Insight Guides Phrasebook and Dictionaries come witha free app featuring key phrases from the book, spoken by native speakers to promote perfect pronunciation
Book Details
ISBN: 9781780058337
Series: Insight Guides Phrasebooks
Publication Date: 6/30/2015
Pages: 280
Dimensions: 93 x 140mm
Series
This title is a part of Insight Guides Phrasebooks
Handy pocket-sized phrasebook to make travel abroad easy. Recognise signs, learn numbers and find the key words and phrases for getting around, eating out, leisure, social media, emergencies, business, and more.
Compact and lightweight with colour coding for quick reference.

Essential phrases cover your journey from your arrival in the airport or station to getting to your hotel, meeting or out and about

Simplified pronunciation and pronunciation guide make it easy to understand and be understood

Comprehensive bilingual dictionary so you're never lost for words

Pocket-sized – easy to use – and carry with you
Format: 93 x 140mm
Price: £5.99 | $8.99
Extent: 280 pages
FAQs
Which payment options can I use in the Insight Guides Shop?

You can pay with credit card: Visa, MasterCard, American Express, and via PayPal.

How long will it take to receive my order from the Insight Guides Shop?

If you've ordered an ebook, it will be delivered to you via email immediately after your purchase.

For printed book orders, we offer DPD next day delivery in the United Kingdom and Northern Ireland and standard (2-8 days), priority (1-3 days) delivery options in the USA.

Please be aware that the delivery times are based on when your item was dispatched and not when you ordered your item. Unless stated otherwise, we intend to send items on the next available business day.

Currently we do not provide a tracking number for your order.

How can I contact Insight Guides about a shop order?

You can contact our shop team at "mail@insightguides.com".

To help our team reply faster, please copy and use one of the following email subject lines:

"Book shop: orders, shipping, returns"
"Website: general usage and technical problems"
"Guide books: corrections and other questions"
"Tailor-made travel"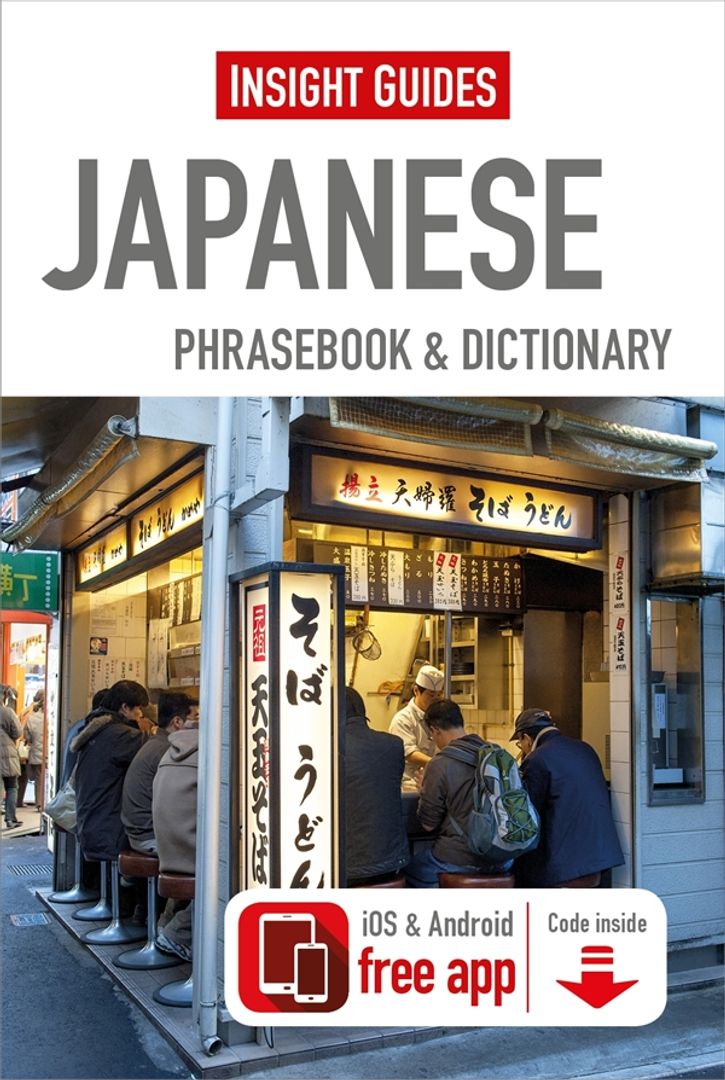 Shipping to the UK and USA only.
Trusted Travel Guides
for Over 50 Years
Expertly Curated
Local Insights
Digital Convenience
for On-The-Go Exploration
Buying Directly
from Publisher
Secure Payment
Processing
Description
Series
FAQs
Insight Guides Phrasebook Japanese: all the words and phrases you need to feel at home, when away. Includes free app.

Compact, clear, and packed with key words and phrases, this pocket-sized Japanese phrasebook and dictionary (with free app) is a trusty travel companion. It's all you need to make yourself understood - and to understand others - when you're out and about in Japan.

· Smartly organised by topic (Exploring, Activities, Health and Safety, Food and Drink, Going Out) in colour-coded sections
· Includes insider local information, and native speaker language tips
· Informative introduction provides clear pronunciation guidelines, and grammar basics to help you get to grips with the language
· Includes an innovative extra that's unique in the market - all Insight Guides Phrasebook and Dictionaries come witha free app featuring key phrases from the book, spoken by native speakers to promote perfect pronunciation
BOOK DETAILS
ISBN: 9781780058337
Series: Insight Guides Phrasebooks
Publication Date: 6/30/2015
Pages: 280
Dimensions: 93 x 140mm