Pocket Rough Guide British Breaks The Peak District
Shipping to the UK and USA only.
Cost calculated at checkout
Description
Discover the best of The Peak District with this compact, practical, entertaining Pocket Rough Guide with a free eBook. This slim, trim treasure trove of trustworthy travel information is ideal for travellers on short trips, and covers all the key sights such as Buxton, Castleton and Bakewell, restaurants, shops, cafes and bars, plus inspired ideas for day-trips, with honest independent recommendations from expert authors. This guide book has been fully updated post-COVID-19.

The Pocket Rough Guide THE PEAK DISTRICT covers: Buxton, Bakewell, Castleton, Bollington, Hathersage and Derwent Reservoir.

Inside this travel guide you will find:

RECOMMENDATIONS FOR EVERY TYPE OF TRAVELLER
Experiences selected for every kind of trip to The Peak District, from off-the-beaten-track adventures near Hathersage to family activities in child-friendly places, like Matlock Bath or chilled-out breaks in popular tourist areas, like Bakewell.

INCISIVE AREA-BY-AREA OVERVIEWS
Covering Padley Gorge, the Nine Ladies Stone Circle and more, the practical Places section provides all you need to know about must-see sights and the best places to eat, drink, sleep and shop.

TIME-SAVING ITINERARIES
The routes suggested by Rough Guides' expert writers cover top attractions like the Peak Cavern and Thor's Cave, and hidden gems like Ladybower Reservoir and Mam Tor.

DAY-TRIPS
Venture further afield to Bakewell or Chatsworth House. This tells you why to go, how to get there, and what to see when you arrive.

HONEST INDEPENDENT REVIEWS
Written with Rough Guides' trademark blend of humour, honesty and expertise, our expert writers will help you make the most of your trip to The Peak District.

COMPACT FORMAT
Packed with pertinent practical information, this is a convenient companion when you're out and about exploring the Heights of Abraham.

HANDY PULL-OUT MAP
With every major sight and listing highlighted, the pull-out map makes on-the-ground navigation easy.

ATTRACTIVE USER-FRIENDLY DESIGN
Features fresh magazine-style layout, inspirational colour photography and colour-coded maps throughout.

PRACTICAL TRAVEL TIPS
Includes invaluable background information on how to get to The Peak District, getting around, health guidance, tourist information, festivals and events, plus an A-Z directory and a handy language section and glossary.

FREE EBOOK
Free eBook download with every purchase of a printed book to access all the content from your phone or tablet for on-the-road exploration.
Book Details
ISBN: 9781839057885
Series: Pocket Rough Guides
Publication Date: 10/15/2022
Pages: 152
Dimensions: 100x191
Series
This title is a part of Pocket Rough Guides
Pictorial, compact travel guides series to countries, cities and regions with a pull-out map and factual travel tips perfect for short trips and travellers seeking concise travel information and practical listings.
Concise practical travel information includes getting there, getting around, climate and safety tips, accommodation, food & drink advice and shopping essentials

Things Not to Miss at the beginning of each guide

Colour-coded places chapters with key coverage of places and sights in points-of-interest structure

Recommendations for accommodation, restaurants, shops and leisure activities for all budgets

Pull-out detailed maps with marked-up key sights or listings

Printed on paper from responsible sources verified to meet FSC's strict environmental and social standards

Free eBook with each purchased printed guide from May 2019
Format: 102 x 190mm
Price: £7.99-£8.99 | $12.99-$13.99
Extent: 128–208 pages
FAQs
Which payment options can I use in the Insight Guides Shop?

You can pay with credit card: Visa, MasterCard, American Express, and via PayPal.

How long will it take to receive my order from the Insight Guides Shop?

If you've ordered an ebook, it will be delivered to you via email immediately after your purchase.

For printed book orders, we offer DPD next day delivery in the United Kingdom and Northern Ireland and standard (2-8 days), priority (1-3 days) delivery options in the USA.

Please be aware that the delivery times are based on when your item was dispatched and not when you ordered your item. Unless stated otherwise, we intend to send items on the next available business day.

Currently we do not provide a tracking number for your order.

How can I contact Insight Guides about a shop order?

You can contact our shop team at "mail@insightguides.com".

To help our team reply faster, please copy and use one of the following email subject lines:

"Book shop: orders, shipping, returns"
"Website: general usage and technical problems"
"Guide books: corrections and other questions"
"Tailor-made travel"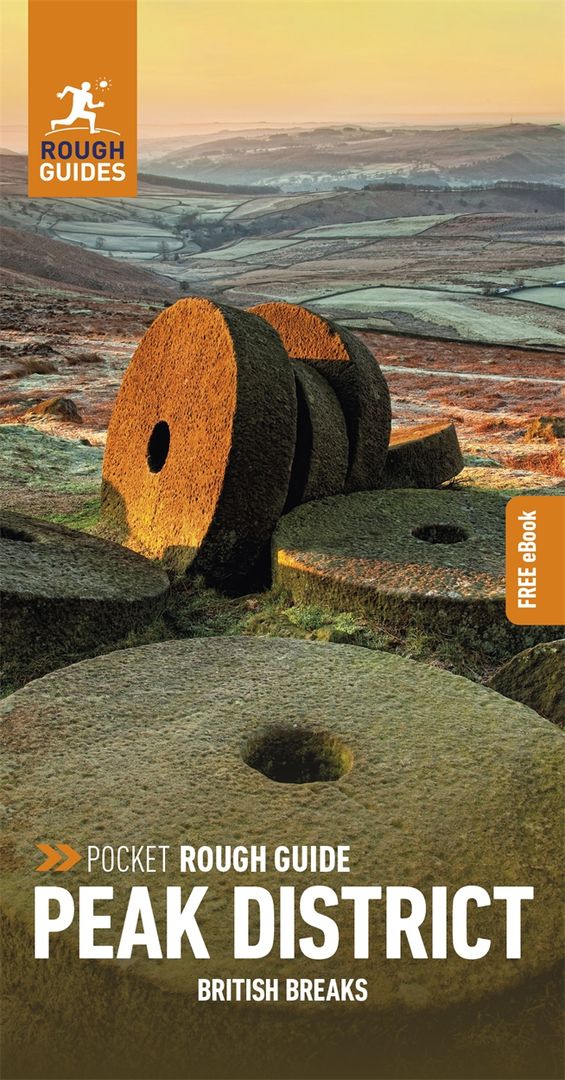 Shipping to the UK and USA only.
Cost calculated at checkout
Description
Series
FAQs
Discover the best of The Peak District with this compact, practical, entertaining Pocket Rough Guide with a free eBook. This slim, trim treasure trove of trustworthy travel information is ideal for travellers on short trips, and covers all the key sights such as Buxton, Castleton and Bakewell, restaurants, shops, cafes and bars, plus inspired ideas for day-trips, with honest independent recommendations from expert authors. This guide book has been fully updated post-COVID-19.

The Pocket Rough Guide THE PEAK DISTRICT covers: Buxton, Bakewell, Castleton, Bollington, Hathersage and Derwent Reservoir.

Inside this travel guide you will find:

RECOMMENDATIONS FOR EVERY TYPE OF TRAVELLER
Experiences selected for every kind of trip to The Peak District, from off-the-beaten-track adventures near Hathersage to family activities in child-friendly places, like Matlock Bath or chilled-out breaks in popular tourist areas, like Bakewell.

INCISIVE AREA-BY-AREA OVERVIEWS
Covering Padley Gorge, the Nine Ladies Stone Circle and more, the practical Places section provides all you need to know about must-see sights and the best places to eat, drink, sleep and shop.

TIME-SAVING ITINERARIES
The routes suggested by Rough Guides' expert writers cover top attractions like the Peak Cavern and Thor's Cave, and hidden gems like Ladybower Reservoir and Mam Tor.

DAY-TRIPS
Venture further afield to Bakewell or Chatsworth House. This tells you why to go, how to get there, and what to see when you arrive.

HONEST INDEPENDENT REVIEWS
Written with Rough Guides' trademark blend of humour, honesty and expertise, our expert writers will help you make the most of your trip to The Peak District.

COMPACT FORMAT
Packed with pertinent practical information, this is a convenient companion when you're out and about exploring the Heights of Abraham.

HANDY PULL-OUT MAP
With every major sight and listing highlighted, the pull-out map makes on-the-ground navigation easy.

ATTRACTIVE USER-FRIENDLY DESIGN
Features fresh magazine-style layout, inspirational colour photography and colour-coded maps throughout.

PRACTICAL TRAVEL TIPS
Includes invaluable background information on how to get to The Peak District, getting around, health guidance, tourist information, festivals and events, plus an A-Z directory and a handy language section and glossary.

FREE EBOOK
Free eBook download with every purchase of a printed book to access all the content from your phone or tablet for on-the-road exploration.
BOOK DETAILS
ISBN: 9781839057885
Series: Pocket Rough Guides
Publication Date: 10/15/2022
Pages: 152
Dimensions: 100x191