The Rough Guide to Top LGBTQ+ Friendly Places in Europe
Shipping to the UK and USA only.
Trusted Travel Guides
for Over 50 Years
Expertly Curated
Local Insights
Digital Convenience
for On-The-Go Exploration
Buying Directly
from Publisher
Secure Payment
Processing
Description
The Rough Guide to the Top LGBTQ+ Friendly Places in Europe - the latest picture-packed addition to Rough Guides' Inspiration range - reveals 20 destinations that will enthuse and reward LGBTQ+ travellers in a brand-new, inspirational coffee-table book.

From vibrant, edgy cities, to stunning, lesser-visited gems, the image-rich Rough Guide to the Top LGBTQ+ Friendly Places in Europe showcases 20 exceptional destinations that are renowned for being LGBTQ+-friendly, and for having notable LGBTQ+ connections.

The expert-selected destinations are organised by season to encourage rewarding year-round trip experiences for LGBTQ+ travellers.

Every destination entry boasts a pithy overview of what makes it special, with historic LGBTQ+- context, plus information about a renowned LGBTQ+ figure connected to the place.

Enlivened by photos, every entry also includes essential tips on what to see and do, with recommendations for the best places to eat, drink, sleep and shop.

Throughout, engaging text and inviting images combine to give a strong flavour of each destination, with a focus on what makes each spot rewarding and unmissable for LGBTQ+ travellers.

Features of The Rough Guide to the Top LGBTQ+ Friendly Places in Europe
- Uncovers the top 20 LGBTQ+ destinations to visit in Europe
- Stylish coffee-table book packed with inspiring photographs
- Includes historic context, and profiles of renowned local LGBTQ+ figures
- Suffused in Rough Guides' "tell it like it is" ethos, and curated by expert authors and editors
- Organised by season to inspire rewarding travel around the year
Book Details
ISBN: 9781839057946
Series: Inspirational Rough Guides
Publication Date: 9/19/2023
Pages: 304
Dimensions: 210 x 275
FAQs
Which payment options can I use in the Insight Guides Shop?

You can pay with credit card: Visa, MasterCard, American Express, and via PayPal.

How long will it take to receive my order from the Insight Guides Shop?

If you've ordered an ebook, it will be delivered to you via email immediately after your purchase.

For printed book orders, we offer DPD next day delivery in the United Kingdom and Northern Ireland and standard (2-8 days), priority (1-3 days) delivery options in the USA.

Please be aware that the delivery times are based on when your item was dispatched and not when you ordered your item. Unless stated otherwise, we intend to send items on the next available business day.

Currently we do not provide a tracking number for your order.

How can I contact Insight Guides about a shop order?

You can contact our shop team at "mail@insightguides.com".

To help our team reply faster, please copy and use one of the following email subject lines:

"Book shop: orders, shipping, returns"
"Website: general usage and technical problems"
"Guide books: corrections and other questions"
"Tailor-made travel"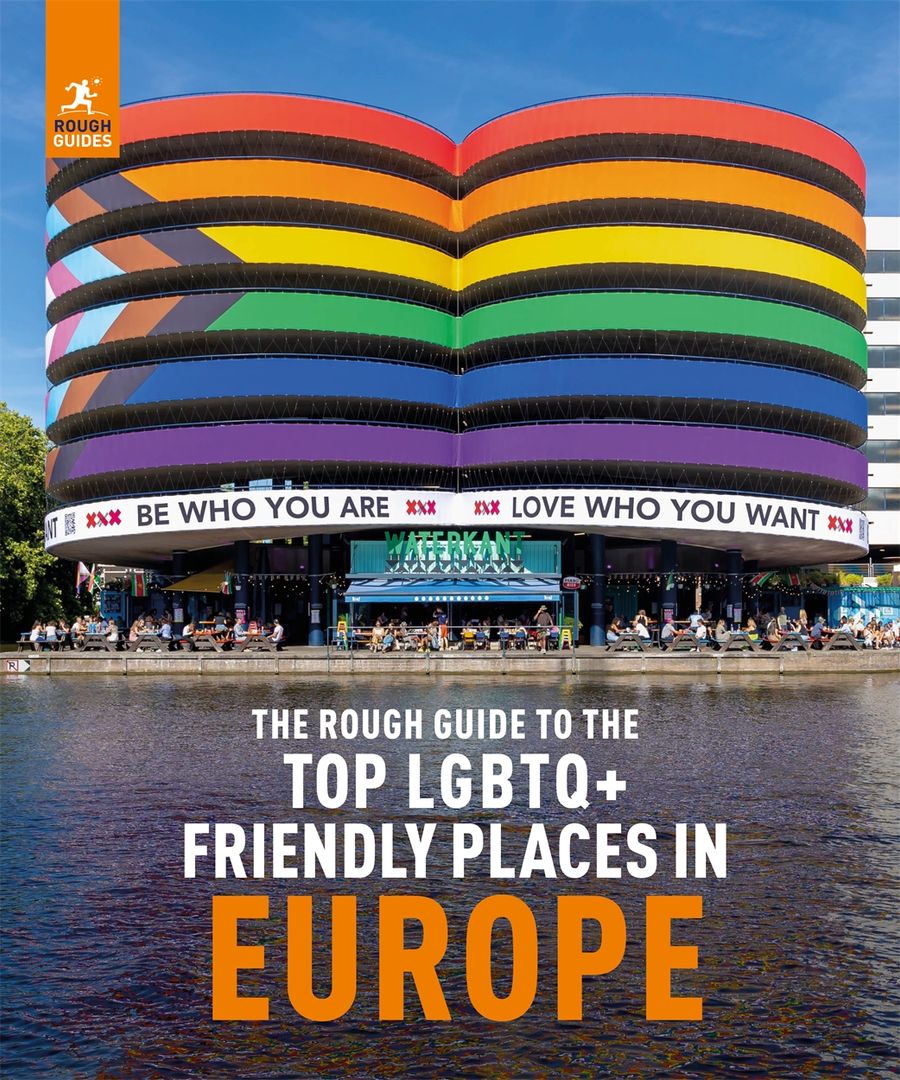 Shipping to the UK and USA only.
Trusted Travel Guides
for Over 50 Years
Expertly Curated
Local Insights
Digital Convenience
for On-The-Go Exploration
Buying Directly
from Publisher
Secure Payment
Processing
Description
Series
FAQs
The Rough Guide to the Top LGBTQ+ Friendly Places in Europe - the latest picture-packed addition to Rough Guides' Inspiration range - reveals 20 destinations that will enthuse and reward LGBTQ+ travellers in a brand-new, inspirational coffee-table book.

From vibrant, edgy cities, to stunning, lesser-visited gems, the image-rich Rough Guide to the Top LGBTQ+ Friendly Places in Europe showcases 20 exceptional destinations that are renowned for being LGBTQ+-friendly, and for having notable LGBTQ+ connections.

The expert-selected destinations are organised by season to encourage rewarding year-round trip experiences for LGBTQ+ travellers.

Every destination entry boasts a pithy overview of what makes it special, with historic LGBTQ+- context, plus information about a renowned LGBTQ+ figure connected to the place.

Enlivened by photos, every entry also includes essential tips on what to see and do, with recommendations for the best places to eat, drink, sleep and shop.

Throughout, engaging text and inviting images combine to give a strong flavour of each destination, with a focus on what makes each spot rewarding and unmissable for LGBTQ+ travellers.

Features of The Rough Guide to the Top LGBTQ+ Friendly Places in Europe
- Uncovers the top 20 LGBTQ+ destinations to visit in Europe
- Stylish coffee-table book packed with inspiring photographs
- Includes historic context, and profiles of renowned local LGBTQ+ figures
- Suffused in Rough Guides' "tell it like it is" ethos, and curated by expert authors and editors
- Organised by season to inspire rewarding travel around the year
BOOK DETAILS
ISBN: 9781839057946
Series: Inspirational Rough Guides
Publication Date: 9/19/2023
Pages: 304
Dimensions: 210 x 275