Insight Guides Travel Map Northern Spain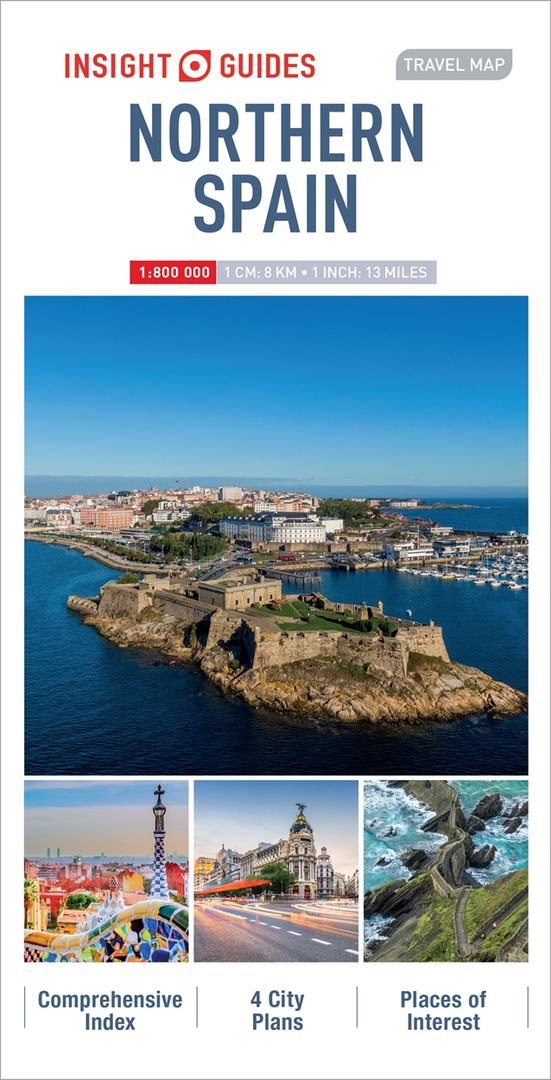 Shipping to the UK and USA only.
Trusted Travel Guides
for Over 50 Years
Expertly Curated
Local Insights
Digital Convenience
for On-The-Go Exploration
Buying Directly
from Publisher
Secure Payment
Processing
Description
This detailed Insight Guides Travel Map of Northern Spain is all you need to plan your route and navigate your way around Northern Spain. It also includes area highlights, top attractions, places of interest, street plans, plus the fabulous free app aids on-the-road navigation.

Features of the Insight Guides Travel Map of Northern Spain
· Travel Map Northern Spain is drawn to scale and shows the entire country, with a comprehensive index for easy look-up
· Ideal for planning your route, and on-the-road-exploring
· Includes free app, which gives access to top travel tips, and additional area highlights
· Features detailed street plans of Madrid, Barcelona and Bilbao
· Outlines Top Attractions and places of interest, including national parks, nature reserves and heritage sites
· Handy distance indicators, located in the margin, give distances to the nearest town and major locations
· Shows roads, rail networks and ferry routes
· Pictorial symbols allow for instant, easy recognition
· Detailed topography, through the use of relief shading, with mountain ranges named, and peak heights given
· Legend shown in eight languages
Book Details
ISBN: 9781789199598
Series: Insight Guides Travel Maps
Publication Date: 1/23/2023
Pages: 1
Series
This title is a part of Insight Guides Travel Maps
Folded paper road maps featuring detailed cartography for practical on-the-road use, backed up by a large number of points of interest.
Ideal for route planning ahead of and while on a driving trip, with multiple attractions pinpointed

Practical distance indicators give distances to the nearest towns and other major attractions

Intermediate driving distances are marked on main roads

Legend is shown in eight languages

Easy to fold, with a striking design and inspirational imagery on the front
Format: 130 x 225mm (folded)
Price: £6.99 | $10.99
FAQs
Which payment options can I use in the Insight Guides Shop?

You can pay with credit card: Visa, MasterCard, American Express, and via PayPal.

How long will it take to receive my order from the Insight Guides Shop?

If you've ordered an ebook, it will be delivered to you via email immediately after your purchase.

For printed book orders, we offer DPD next day delivery in the United Kingdom and Northern Ireland and standard (2-8 days), priority (1-3 days) delivery options in the USA.

Please be aware that the delivery times are based on when your item was dispatched and not when you ordered your item. Unless stated otherwise, we intend to send items on the next available business day.

Currently we do not provide a tracking number for your order.

How can I contact Insight Guides about a shop order?

You can contact our shop team at "mail@insightguides.com".

To help our team reply faster, please copy and use one of the following email subject lines:

"Book shop: orders, shipping, returns"
"Website: general usage and technical problems"
"Guide books: corrections and other questions"
"Tailor-made travel"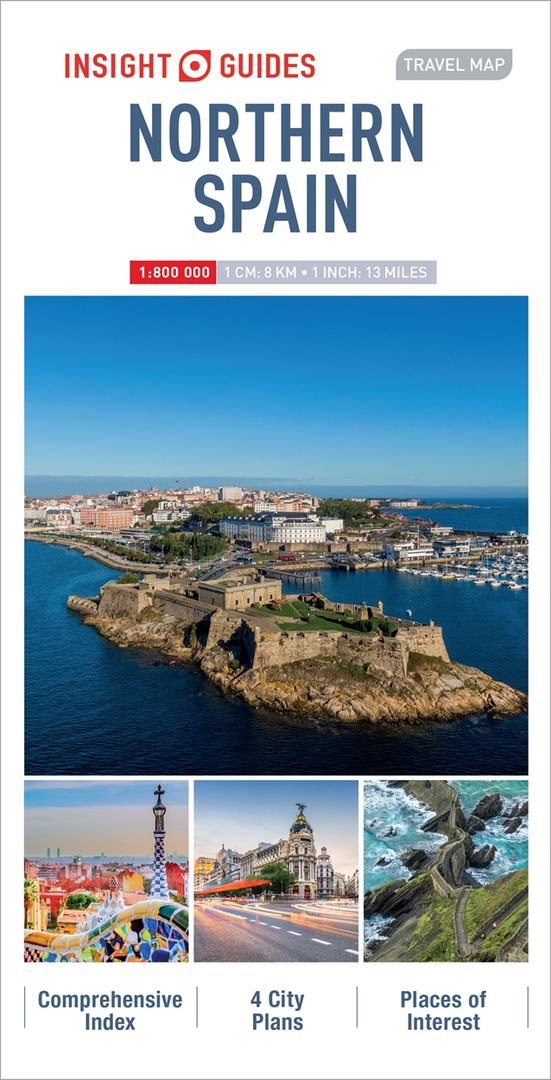 Shipping to the UK and USA only.
Trusted Travel Guides
for Over 50 Years
Expertly Curated
Local Insights
Digital Convenience
for On-The-Go Exploration
Buying Directly
from Publisher
Secure Payment
Processing
Description
Series
FAQs
This detailed Insight Guides Travel Map of Northern Spain is all you need to plan your route and navigate your way around Northern Spain. It also includes area highlights, top attractions, places of interest, street plans, plus the fabulous free app aids on-the-road navigation.

Features of the Insight Guides Travel Map of Northern Spain
· Travel Map Northern Spain is drawn to scale and shows the entire country, with a comprehensive index for easy look-up
· Ideal for planning your route, and on-the-road-exploring
· Includes free app, which gives access to top travel tips, and additional area highlights
· Features detailed street plans of Madrid, Barcelona and Bilbao
· Outlines Top Attractions and places of interest, including national parks, nature reserves and heritage sites
· Handy distance indicators, located in the margin, give distances to the nearest town and major locations
· Shows roads, rail networks and ferry routes
· Pictorial symbols allow for instant, easy recognition
· Detailed topography, through the use of relief shading, with mountain ranges named, and peak heights given
· Legend shown in eight languages
BOOK DETAILS
ISBN: 9781789199598
Series: Insight Guides Travel Maps
Publication Date: 1/23/2023
Pages: 1