Rough Guides Phrasebook Arabic
Shipping to the UK and USA only.
Trusted Travel Guides
for Over 50 Years
Expertly Curated
Local Insights
Digital Convenience
for On-The-Go Exploration
Buying Directly
from Publisher
Secure Payment
Processing
Description
Rough Guides Phrasebook Arabic
Compact, clear, and packed with key words and phrases to help conversation, this pocket-sized Arabic phrasebook and dictionary from Rough Guides' trusted language experts (with free app) is a trusty travel companion, and all you need to make yourself understood - and to understand others - when you're out and about in Arabic-speaking countries.

· With its emphasis on conversational usage, and up-to-date language on social media, leisure, business - and more - this is the only phrase book you'll need when exploring Arabic-speaking countries
· Includes 7000-word bilingual dictionary
· Visually appealing colour-coding system means you can find what you want, when you want, and fast
· Rough Guides' simplified pronunciation system will ensure you're clearly understood
· Stunning colour photography enhances the expert content, and makes this series the most visually attractive phrase book on the market
Book Details
ISBN: 9781789194395
Series: Rough Guides Phrasebooks
Publication Date: 5/31/2019
Pages: 288
Dimensions: 93 x 140mm
Series
This title is a part of Rough Guides Phrasebooks
Perfect pocket-sized travel companion to ensure communication abroad is a breeze. These clever little books contain all the conversational language you'll need for transport and getting around, finding accommodation, ordering food, shopping, making friends and more.
The lightweight pocket-sized book containing all the need-to-know phrases while travelling

Simplified pronunciation makes it easy to pronounce foreign words

Essential information, such as getting from the airport, getting around, money and emergency numbers, is featured

Colour-coded sections for quick reference

Stylish design features several full-colour photos of the destination

Includes 7000-word bilingual dictionary
Format: 94 x 140mm
Price: £5.99 | $8.99
Extent: 288 pages
FAQs
Which payment options can I use in the Insight Guides Shop?

You can pay with credit card: Visa, MasterCard, American Express, and via PayPal.

How long will it take to receive my order from the Insight Guides Shop?

If you've ordered an ebook, it will be delivered to you via email immediately after your purchase.

For printed book orders, we offer DPD next day delivery in the United Kingdom and Northern Ireland and standard (2-8 days), priority (1-3 days) delivery options in the USA.

Please be aware that the delivery times are based on when your item was dispatched and not when you ordered your item. Unless stated otherwise, we intend to send items on the next available business day.

Currently we do not provide a tracking number for your order.

How can I contact Insight Guides about a shop order?

You can contact our shop team at "mail@insightguides.com".

To help our team reply faster, please copy and use one of the following email subject lines:

"Book shop: orders, shipping, returns"
"Website: general usage and technical problems"
"Guide books: corrections and other questions"
"Tailor-made travel"
Reviews
Customer Reviews
5.0 out of 5, 2 global ratings
Amazon Customer
Reviewed on December 01, 2020
Paperback | Verified
it is a bit smaller than I expected but will do the job.
Amazon Customer
Reviewed on January 25, 2020
Paperback | Verified
Lovely little book for our son who was off to Abu dhabi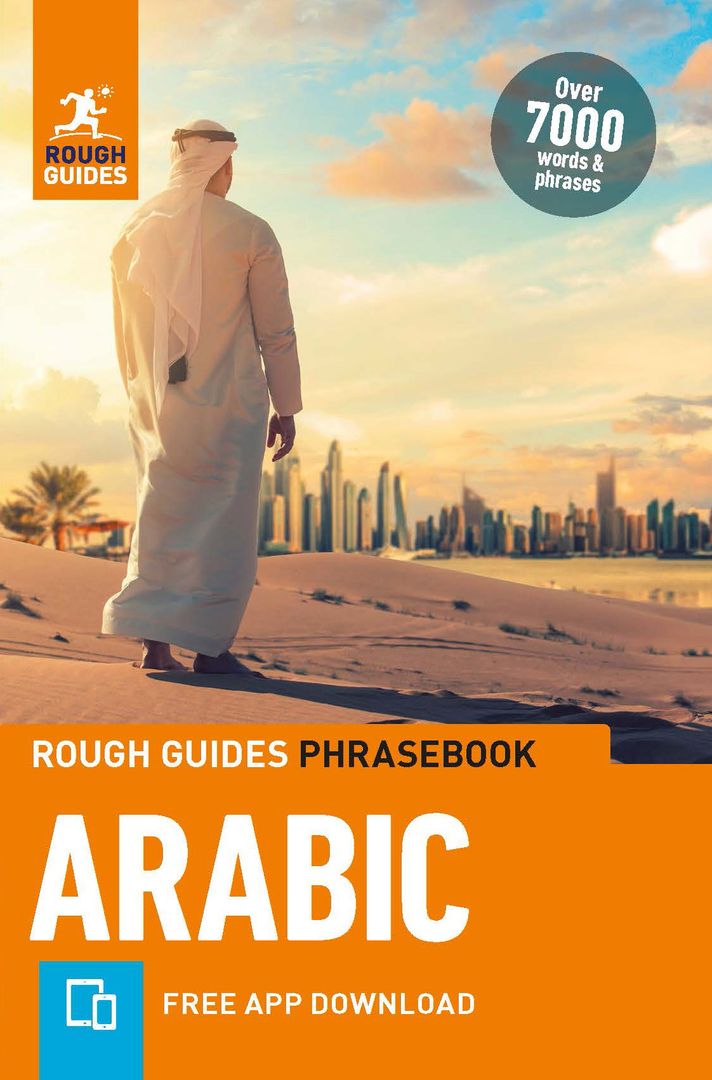 Shipping to the UK and USA only.
Trusted Travel Guides
for Over 50 Years
Expertly Curated
Local Insights
Digital Convenience
for On-The-Go Exploration
Buying Directly
from Publisher
Secure Payment
Processing
Description
Series
FAQs
Reviews (2)
Rough Guides Phrasebook Arabic
Compact, clear, and packed with key words and phrases to help conversation, this pocket-sized Arabic phrasebook and dictionary from Rough Guides' trusted language experts (with free app) is a trusty travel companion, and all you need to make yourself understood - and to understand others - when you're out and about in Arabic-speaking countries.

· With its emphasis on conversational usage, and up-to-date language on social media, leisure, business - and more - this is the only phrase book you'll need when exploring Arabic-speaking countries
· Includes 7000-word bilingual dictionary
· Visually appealing colour-coding system means you can find what you want, when you want, and fast
· Rough Guides' simplified pronunciation system will ensure you're clearly understood
· Stunning colour photography enhances the expert content, and makes this series the most visually attractive phrase book on the market
BOOK DETAILS
ISBN: 9781789194395
Series: Rough Guides Phrasebooks
Publication Date: 5/31/2019
Pages: 288
Dimensions: 93 x 140mm